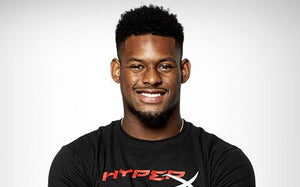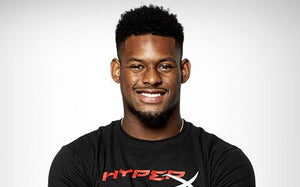 JuJu Smith-Schuster
Location: Pittsburg, PA USA
Platform: PlayStation
Favorite Games: Call of Duty
Additional:
If you aren't a Pittsburgh fan, you might have missed out on a quintessential JuJu Smith-Schuster moment from his rookie season. During the pre-game lead-up, JuJu took a young fan aside and mimed playing video games with him on the field. It's a little slice of life that nicely captures a few of JuJu's biggest passions; football, his fans, and video games.

After being introduced to the physicality and the competitive forge of football, JuJu took his skills to Long Beach Poly High School where he was both a standout safety and wide-out. He committed to USC, made first team All Pac-12, and amassed a collection of 25 TDs and over 3,000 yards before being taken in the 2nd round of the NFL draft.

JuJu quickly adapted to life in the pros, nearly tallying up 1000 yards in his rookie campaign, and eclipsing the mark in his 2nd season. He's one of 2 players in NFL history to record 2 touchdowns of 97 yards or longer. If you're unfortunate enough to line up across from JuJu, you're in for a long afternoon, because the man is all gas, no brakes.

Life doesn't get any easier if find yourself facing off against JuJu online. Whether he's capturing checkpoints in Call of Duty or scoring points in Madden, JuJu's going to be coming at you full force, and he's going to be doing it while he's equipped with HyperX. HyperX gaming headsets help JuJu block out distractions while providing the comfort and clear communication that he and his squad need to get those Ws. So, if you see JuJu coming your way, you might want to step aside, lest he and HyperX stiff-arm you out of the way.