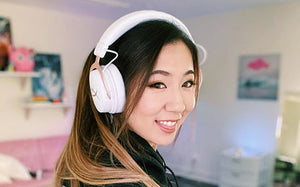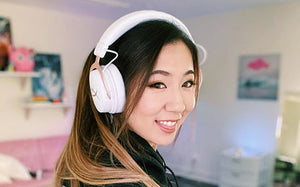 Fuslie
Location: Los Angeles, CA, USA
Platform: PC
Favorite Games: Valorant, Among Us, Pokemon
After a long history of throwing herself into new Pokemon games, as soon as they dropped, Leslie "Fuslie" Fu's roommates suggested something to her, "Why don't you try streaming?" Since that moment in 2015, Fuslie has been steadily growing her audience with her blend of positivity, hilarious storytelling, and upbeat content.
Her strong bonds with roommates and friends are still a big part of her life, something that is easily seen by all the times she brings them on stream to give them haircuts, makeovers, or get them to participate in other fun hijinks. She extends this warmth to her viewers, who she lovingly calls the "FusFam."
Fuslie's built a happy, laid-back legion of followers, spreading cheer, throughout the internet. As someone who's constantly online and communicating with her fans, Fuslie knows that it's hard to be upbeat for hours when you have an uncomfortable headset clamping down on you. That's why she chooses HyperX for ultra-comfortable, reliable gear to help her put on the best possible show for her fans. Whether she's singing her heart out, learning a new dance, or trying to click on heads, Fuslie can count on HyperX gaming gear to help her keep things cheery and upbeat.